Support BibleTalk.tv
Thank you for helping us proclaim God's word to the digital world.
BibleTalk.tv is an outreach ministry overseen by the elders at the Choctaw Church of Christ in Choctaw, Oklahoma. Those who wish to provide financial support for this work can do so in the following ways.
1. By Check
Checks made out to:
Choctaw Church of Christ
Memo: BibleTalk.tv
Mailed to
Choctaw Church of Christ
c/o BibleTalk.tv
14998 E. Reno
Choctaw, OK 73020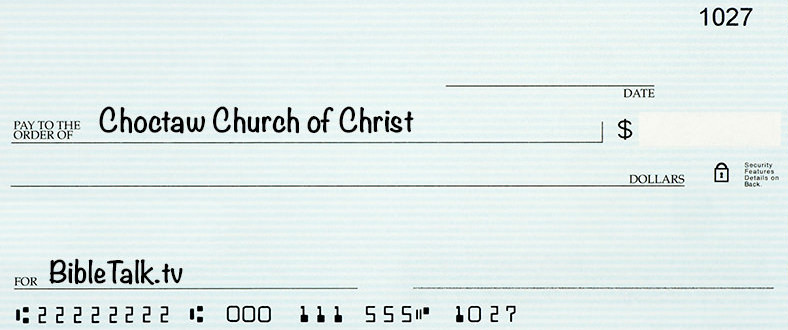 2. Online
Here are the platforms we offer for online donations.
3. Zelle
Zelle is a fast and free way to send and receive money with the people you know and trust. Add the following email address as the recipient:
---
Tax Receipts
Yearly contribution statements will be sent out with receipt of your giving. Please provide your name and return address with your check. We do not always receive contact information through services like Zelle. If you have not received a receipt of your giving, please email bookkeeper@bibletalk.tv.
Reports
We send out a brief one-page report each quarter on our progress. You can receive these reports by email or view past reports on our reports page.
Some years ago, I had a spat with God and decided we would no longer be on speaking terms. You can only imagine how that turned out. Some friends of mine came to the rescue recently and in my new journey I found your ministry and "James for Beginners" turned the ship. Thanks in large part to you, I am compelled a 1,000 miles away to be baptized by immersion and for the right reasons. Thanks for that! Maybe one day we will meet and I can shake your hand. Just know that in the meantime your work is producing miracles in hard hearted folks like me. Thanks!
---
Paul
---
---